Tracey Maclaren - Wedding Celebrant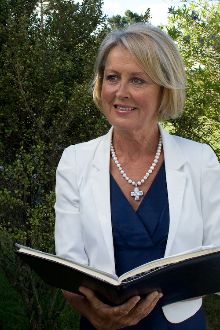 I am a permanent long term resident of Queenstown currently residing in beautiful Arrowtown. I have been living and working in the beautiful Southern lakes district for more than 23 years. This region is renowned for its majestic beauty, array of world class attractions and warm hospitality.
A place of pure inspiration that is captivating and a superb place to both live in and enjoy visiting.
I am a Justice of the Peace for New Zealand and have been for more than 10 years and I have been a Marriage Celebrant in this glorious location for 3 years.
My professional background is in Tourism, Hospitality and Business Management and Destination Marketing for Queenstown "Business events".
I am a Director of 3 boutique Tourism businesses in the Southern lakes region and an and a past president of the Queenstown Rotary Club.
I love the outdoors and all the activities the four distinct seasons have to offer us in the Queenstown basin. Cycling, Hiking, Skiing, Swimming and much more ...
I reside in Arrowtown but am willing to travel to all areas of the Southern Lakes region to consult and advise you on your wedding service and to rehearse and perform your bespoke wedding ceremony.